If you are planning to visit Myanmar, it is likely you will need a tourist visa, or Myanmar Social Visa in order to enter the country.
Do I need a Myanmar Visa?
Don't get confused by the conflicting information on the internet about this issue. If you are entering the country, you likely need to apply for a visa before you arrive no matter how short your stay. Although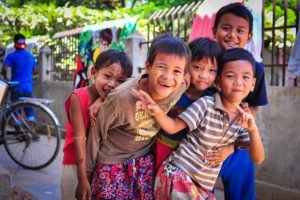 technically they will stamp the visa in your passport at
immigration when you arrive, this eVisa processing is required before entering the country. Please do not ignore this as you can be denied entry and required to fly back to wherever you came from.
Myanmar Visa from an Embassy
You can apply for a Myanmar visa in person at an embassy, but since there are not a lot of embassy options, you may prefer to use the online option.
Myanmar eVisa
Now, luckily there is the eVisa option, which is NOT the same thing as Visa on Arrival. If you are a tourist and you are not from Brunei, Cambodia, Indonesia, Laos, Philippines, Thailand, Singapore, or Vietnam, you will need a visa. If you have a passport from one of these 8 countries, there is a visa exemption up to a certain point. Check this page for the number of days.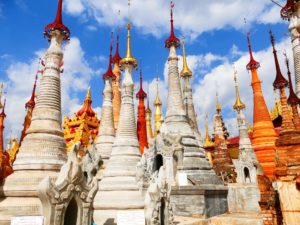 Who is eligible for Myanmar Social Visa (or eVisa)?
There are 100 other countries that are eligible to apply for the Myanmar Tourist eVisa. Now there is even an expedited service for just a little extra. Be careful when inputting your information, it must be 100% accurate. There are no refunds if you make a mistake. The website promises the visa within 24 hours, but I would still plan ahead just in case. The visa approval letter will be delivered to you by email, and you must print it out. If for some reason you are unable to receive the email you can still download the approval letter here.
Myanmar Visa Cost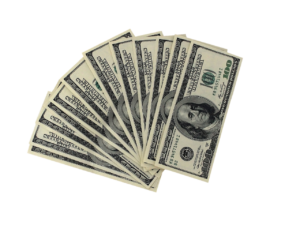 For the Myanmar Tourist eVisa, the cost is $50 that is paid online when you apply for the visa. You should receive it by email within 3 days. The new option for an expedited eVisa in 24 hours is $56. You must print the visa approval letter for either option.
If you are going to Myanmar as an employee, you can apply online for $70.  If you want to save a bit, it is $50 cash at the airport on arrival. You will need crisp new USD in order to pay this fee, preferably a $100 bill if you wish to avoid any issues.
Myanmar Visa Validity
The Myanmar Tourist visas are valid for 28 days, and business visas are valid for 70 days. If you overstay your visa you will be asked to pay a fine at the airport before you leave. See below for more information about overstaying your Myanmar Visa.
Myanmar Visa on Arrival
You will hear lots of talk about visa on arrival in Myanmar, but currently, this is ONLY an option if you have an invitation letter from a company and the company registration from that entity. If you are going to Myanmar to work, you will get this information from your employer. It is still a good idea to double check this website, and compare it with the instructions your employer gives you. Be sure to double check any documents you are sent to ensure your name and passport information match the information letter. Be sure all documents you are given have signatures. If you are going as a tourist, you should check the information about the Myanmar eVisa.
After you apply for Myanmar eVisa
Once you have applied for the Myanmar eVisa, there is not much left to do. You can check the status of your Myanmar eVisa here. : https://evisa.moip.gov.mm/statusenquiry.aspx You will need your application number or passport number. Once the approval letter arrives by email, you need to print it out and have it ready to present with your passport at the immigration desk in the airport where you arrive.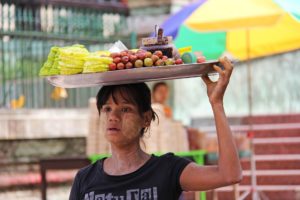 What to do at the airport with a Myanmar eVisa
Once you get off the plane at one of the approved entry points, you will enter into the immigration area. In Yangon, there is one desk for Visa on Arrival. It is off to the side  and is only for the business visa applicants. There is a big line with many desks for eVisa entry. If you have applied for the eVisa just join a line and enjoy the wait. Just avoid the diplomatic line. The wait time varies so there is no predicting how long it will take. Once you reach the desk they will stamp a visa in your passport. They also take your picture before sending you on your way to pick up your bags.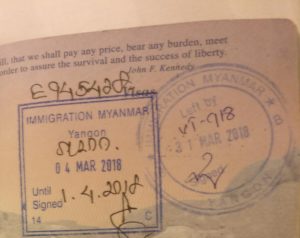 What do to at the airport for Myanmar Visa on Arrival
If you are coming with papers from an employer, check the list of requirements carefully and be sure you have everything in order before you get to Myanmar, including the cash for the visa payment in USD. If possible, have the phone number of a local contact handy just in case there are any problems once you arrive. Generally, the process should be quick. The officers will take your documents including your passport, and you will wait a while for them to return it with the affixed visa. Then you will join the other lines allowing you to get your visa stamped and pass through to baggage claim.
Overstaying Your Myanmar Visa
While I would never recommend staying past the valid date on your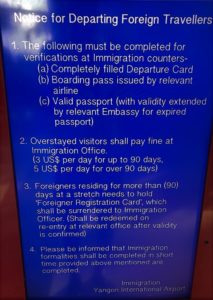 visa, Myanmar does not seem to have strict punishments for this yet. This is a sign from the Yangon International Airport stating that overstayed visitors will pay 3 USD per day for up to 90 days and 5 USD per day for over 90 days.
Further Questions
Check out the eVisa FAQ page or contact Myanmar Immigration at phone number 067-431125 (weekdays 9:30 am to 4 pm Myanmar Time), from evisa.moip.gov.mm, or via e-mail at contact@moip.gov.mm
Myanmar is a rapidly changing country. Be sure to check the official pages to be sure this information is valid before you arrive in Myanmar. This was written in June 2018.