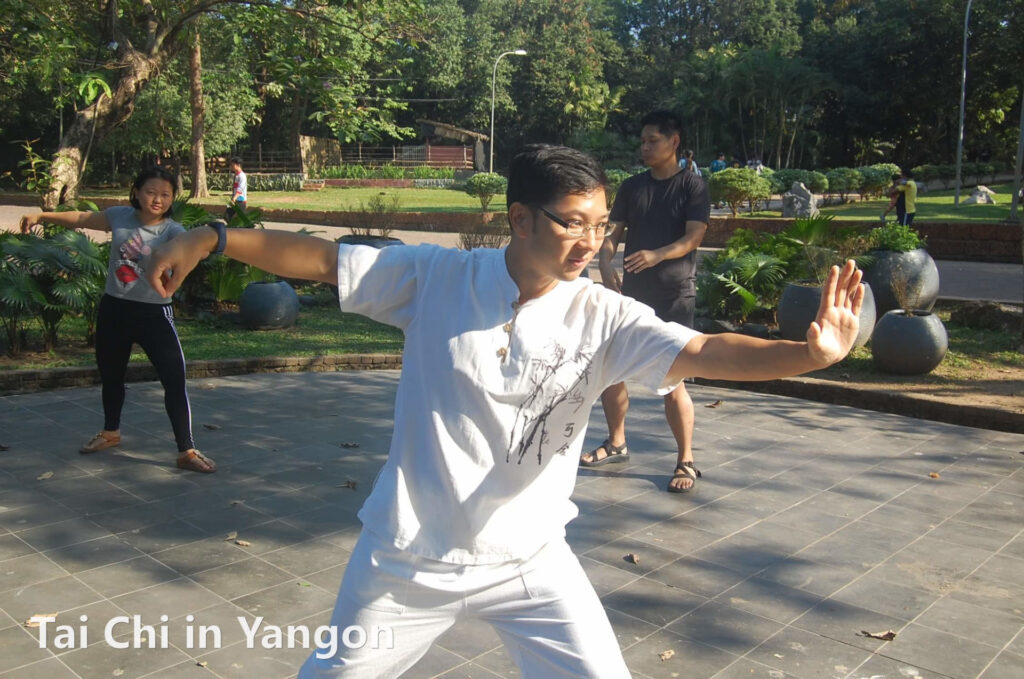 If you have ever wandered through a park in the morning and seen people practicing slow graceful movements, you may have seen the art of Tai Chi.
Tai Chi is a companion of Kung Fu, that takes the martial art to the next level. Wuanna Zawlwin, the instructor for Tai Chi in Yangon, says many people are drawn to the health benefits of Tai Chi and like to practice the movements in the morning. Tai Chi is believed to boost your immune system and help you stay strong both physically and mentally. The direct translation of the words Tai Chi is "Supreme Ultimate." He explained that it operates on four main levels, the muscles, energy, mind, and spirit.
But when he arrived here from Germany six years ago, he didn't find any Kung Fu or Tai Chi teachers to guide him in continuing his own practice. That is how Tai Chi in Yangon got started.
Wuanna's father left Myanmar when the country was under military rule, and Wuanna was born in Cologne, Germany. He learned Tai Chi while he was at University in Aachen, Germany. Just six years ago, Wuanna's family moved to Yangon to build up their Renewable Energy company focused on off-grid wind energy. He is an electrical engineer and says his passion for renewable energy and Tai Chi are closely connected.
"Tai Chi is all about energy efficiency in the end. My renewable energy job is about energy and efficiency so it's the same." He explained that Tai Chi is about making the Kung Fu movements as effective as possible with minimal effort. That is why he believes Tai Chi should be studied after Kung Fu, but not all of his students have this experience.
His interest in science makes it possible for him to see the visual evidence of the Qi, or life force energy in the body, and how using Tai Chi improves health. If you want to see some evidence of your body's Qi energy, you can rub your palms together and notice how much heat is generating. If a person is very sick with the flu or a cold, and they don't have much Qi, that warmth will not arise. But the more Tai Chi you do, the less you have to force this energy to feel it. It will naturally come out and it becomes like a warm glow around your body.
Many Tai Chi teachers only have theoretical experience and they haven't integrated the principles into their daily life. Wuanna says he is the opposite, "I don't have any certificate, I can only convince the people by my teaching so if they like it they can stay. If they don't then I'm also fine with that." He notices that a lot of people have diplomas or certificates to say they have completed a course but they don't really know the material. "I know a lot but I don't have any papers to show it. " Wuanna has been practicing Tai Chi for 17 years now but he remembers when he shifted from being purely theoretical to really putting it all into practice.
He was struggling with allergy symptoms, red itchy eyes that made it hard to see outdoors, shortness of breath, and inability to sleep at night due to allergy symptoms. He began to experiment while he was up at 3 AM, using the movements and the principles of Tai Chi together. He says he had no idea what he was doing, but in one month, his allergy symptoms were gone.
While medical tests still show he has the allergies, he is able to completely manage them with this holistic approach to caring for his health. "The movement in Tai Chi is always smooth, for balancing the energy flow in the body. This smoothing out the energy flow is what allows your body to heal itself," Wuanna said.
Being able to integrate the theoretical approach and this more practical use has helped him to become an amazing teacher. He has taught students from age 18 to 70+ and his students give him glowing reviews.
"He is knowledgeable in terms of Tai Chi, Kung-Fu foundation and Chinese medical theories!" says Mon Yee from Hong Kong. Other students describe his teaching style as gentle, understanding, attentive, inspiring, patient, and with a holistic approach to teaching. They say his teachings are helpful not only in practicing martial arts but also in everyday life. "We need to solve our many problems in life and learn how to handle and manage emotions and thoughts to overcome these obstacles, the same way we analyze the enemy and anticipate his next move, ready to dodge, block, or counterattack," says Karishma, a former student from Italy.
Wuanna's dream is to create a sustainable space here in Yangon to teach Tai Chi, Kung Fu, and even electrical engineering since he sees them all as being connected. He would love to use the energy of nature and the environment in his teaching and even have a cafe where people will also learn the Yin and Yang Five elements with food and balanced nutrition. He imagines a gym and cafe in a building designed with Feng Shui, a practice in which the structure and space are configured to encourage the optimal flow of energy.
Currently, Tai Chi in Yangon classes are held online due to the pandemic.  He made the switch back in March but before that, classes were held at Kandawgyi Lake and he looks forward to returning there when it is possible.  If you are interested in learning more about Tai Chi, check out the Facebook page Tai Chi in Yangon. The beginner class is at 10 AM on Sunday mornings.  The first class is always free so you can see if it is a good fit for you. Join in to improve your health and wellbeing.
Originally posted at Myanmore.com