Dong Xuan Night Market was high on my list since visiting markets is one of my favorite things to do when I travel.  Of course I also like to browse grocery stores looking for new and interesting keto friendly foods, but nothing has the same ambiance as a local market.  Hanoi didn't disappoint! The Dong Xuan Night Market opens at 19:00 (7:00 PM) on Fridays, Saturdays, and Sundays and is frequented by both locals and tourists alike.
Cultural Experience at the Dong Xuan Night Market 
The Dong Xuan night market runs all along Hang Dao Street in the Old Quarter of Hanoi and ends near the entrance of the Dong Xuan Market building.  Near the front of the building, there was a stage with performances of local music.  Both tourists and locals were gathered around the stage trying to get a good view.  Performances vary, I even heard some opera music.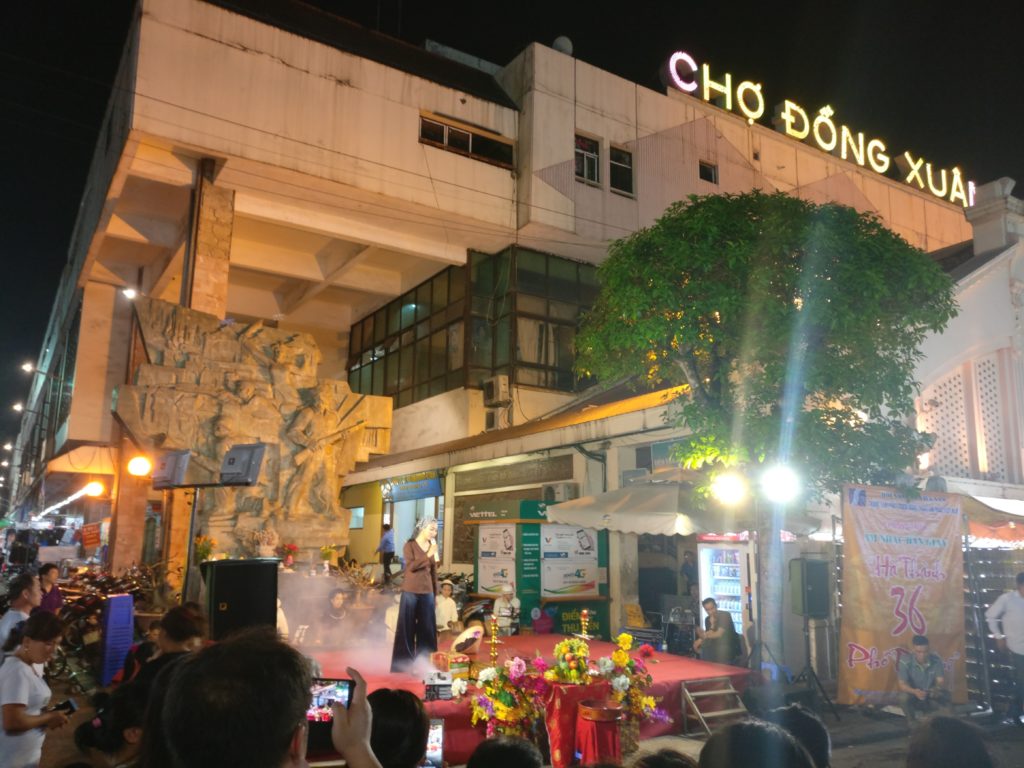 Food at Dong Xuan Night Market
To the left of the stage are many outdoor restaurants, but I don't recommend eating here if you want the "traditional" experience. You will get a better deal at the stands peppered across the market buying food on sticks. I just do not like meat enough to eat it straight off a stick, I like to hide it in between vegetables.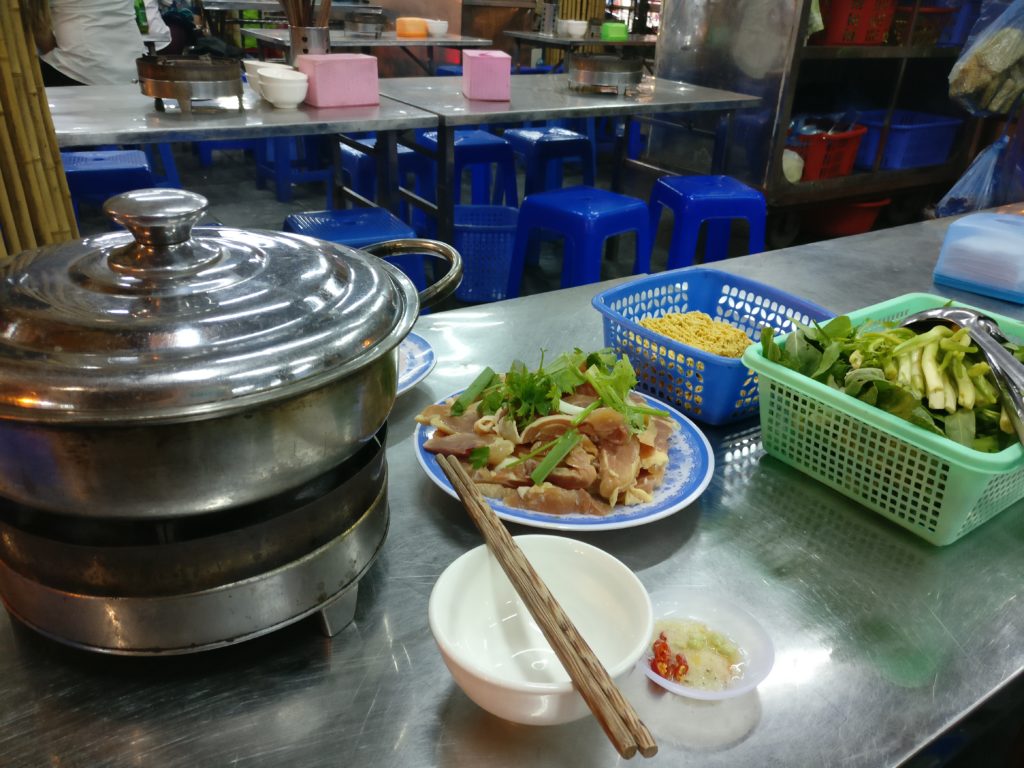 I had decent food in a hotpot prepared at my table, but now know that I paid more than 3 times what I should have. At least I was able to ask them not to put in the noodles that were waiting to be added! So I just had a nice keto dinner of chicken and fresh vegetables!
Shopping at the Night Market
The market itself is great for shopping if you need anything! You can pick up anything from souvenirs and handmade crafts to brand name bags and clothing. Just beware that the quality is probably not what you would expect from the actual brand name. I feel pretty good about paying around $8 for a pair of Converse. They may not last me 5 years like the ones I was wearing at the market, but they definitely look a lot better! I have to admit I didn't bargain for the shoes. But everyone says you can bargain for just about anything at the market. I just paid what was on the sign because I was tired and felt like it was a fair price.
Even if you don't want to buy anything, it is worth going to take a look around. Saturday night was definitely more lively and energetic in my opinion. I ended up back there on Sunday just because of my lack of direction and wandered around for a while.
Dong Xuan Market by Day
Today I went back to the market that runs inside the building during the daytime. It was even more overwhelming than the outdoor night market. I was looking for a plain comfortable T-Shirt to wear on my overnight bus trip on Friday. All the women's clothing looked too small for me! I ended up buying an Extra Large Men's T-shirt and it fits great (in the US I wear a Medium or Large women's ). So I guess I wasn't crazy for feeling like a giant here!
Tips for Visiting the Dong Xuan Night Market
As always, be careful with your valuables in the market. It's often very crowded, especially around good food!
Watch your money, as many bills look similar, be sure you are giving the correct bills and getting the right change back.  For example, the 100,000 VND bill looks similar to 10,000 VND but the comparison is similar to $0.40 and $4.00.
No vehicles are supposed to be allowed inside the market and even parking motorbikes looked like it would be a struggle at that time so I recommend walking or taking a taxi or Grab.
Enjoy the ambiance and people watching!
Check out my travel story from the South of Vietnam, Misjudging a Man.
For more travel tips, check out Tips for Traveling with Narcolepsy, and Tips for Riding a Sleeper Bus in Vietnam!