If I don't have a picture of it, did it really happen?
Monkeys swing from the trees to the corrugated metal protecting the steep stairs from the burning sun. They are looking for food or drinks they can steal. My phone is tucked away as I ascend 777 stairs to Mount Popa. I have heard these aggressive monkeys have a tendency to snatch anything they see from people's hands. However, I'm itching to pull it out so I can take pictures of their cute little faces.
What is this desire to capture everything in photos?
My first camera used film. I remember lining up every shot to make good use of the 36 frames before I would have to beg my mom for another roll. Then I would wait weeks before the film would be developed and I would finally see what I had captured through the lens. It was exciting!
But now with my smartphone, its all about instant gratification. I want to take pictures and see them immediately. I often find myself taking multiple shots at the same time as though one is not enough. No more rationing film, or even digital space now that the cloud is available to store as many images as I like.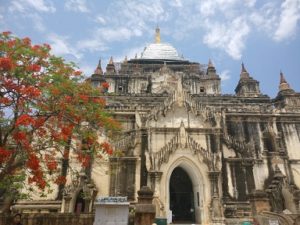 Being in the Moment
Shouldn't I be content to be in the moment watching the interactions between the primates and the humans in real-time? Why is my smartphone even on my mind? It feels like a missed opportunity for some seriously cute and perhaps funny photos. What's wrong with me? Is capturing digital images really that important?
Where do I strike the balance between enjoying the moment, and photographing my travel?
Taking pictures is part of the joy of traveling for me. I love the satisfaction of capturing the energy of a place in a stationary image. I like the photos that transport me back to that day and remind me of what felt when I captured the moment. They are more than just a record of where I have been.
I also like to take pictures of simple things that brought me joy or amusement even if they would have no meaning to anyone else who saw the photo. In Asia, it seems I find a lot of signs quite amusing. This place is still my absolute favorite. It was a play place for kids with the slogan, "Happy balls happy you!"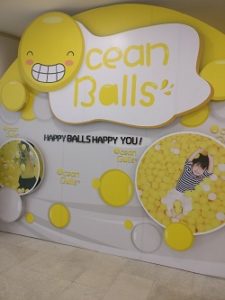 But Monkeys Are So Cute…
The next time I encountered monkeys, I was on an island hopping tour in Malaysia alone. I didn't hesitate to pull out my phone and take some shots since they didn't seem to be as aggressive. Sure, none of them are award-winning
photos but taking the pictures didn't detract from my experience. I didn't allow myself to get overly obsessed with getting the perfect shot I just stood and watched them play, snapping the shutter now and then hoping to get their faces turned toward me.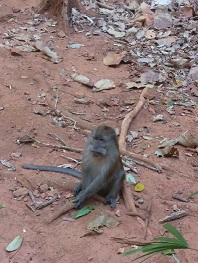 This experience brought back memories of my safari trip in 2017. Going on a safari knowing I would probably never repeat the experience made me feel a lot of pressure at first. I thought I had to do it right, go to the right places, be in the right areas to see the animals I wanted to see. But then it was overwhelming. I decided to just let go, and go with the flow.
The women I traveled with all had much more sophisticated cameras than I did. But I decided not to worry about capturing it all on film. I knew that I would never get shots like professional photographers, even if I bought a new camera just for the trip. So that wasn't my focus. Traveling in Tanzania, I was more comfortable carrying less stuff and it was more important for me to be aware of my surroundings.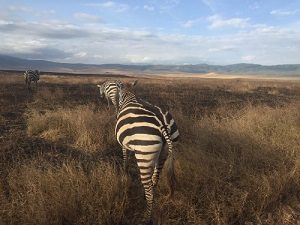 My friends did hand over their cameras from time to time because I have a knack for getting the zoom just right and clicking but I found it more relaxing to enjoy the scenery without stressing about getting the perfect shots.
My favorite picture from the whole trip was completely unexpected. I was sitting in the jeep, waiting for everyone else to get ready to go out to Ngorongoro Crater. I was patiently observing the chaos in the camp, when an elephant came out of the forest and started drinking from the water tank next to the public washrooms!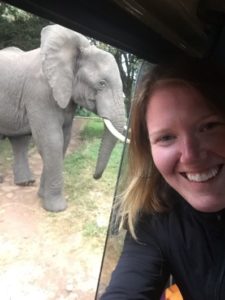 I shamelessly snapped a selfie. Sure it's not the clearest photo, it's not framed perfectly, and I don't look my best but this moment was something that I am grateful to have a picture of. Taking the pictures didn't detract from the moment, and it would have been unforgettable regardless. The pictures are just a bonus.
I've never arrived home and said, I wish I hadn't taken so many pictures on this trip! Even when I look in my camera roll and see hundreds of new images, if it didn't detract from my experience I don't see a problem with it. But I also recognize that I am mindful enough to set aside moments that don't have to be photographed.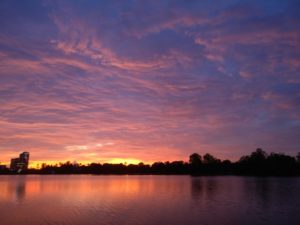 My take away from this is that I can have it both ways! I can enjoy taking pictures as long as the act is not distracting me from the journey. And I can enjoy time without snapping shots as long as I'm being physically and mentally present enough to remember the moment. Even if I don't have photographic evidence, my experiences are still valid.
If you want to learn more about mindfulness, check out the articles below:
Mindfulness Activities to Try Today