Visualize
1. First, you will want to visualize what it is you want out of your life. Remember to take time to consider the 7 areas of life, finances, career, recreation, health, relationships, personal life, and community. You can use this audio to guide you.
Enjoy a Vision Board Ritual
2. Why not create a little ritual to make your experience special.? If you are looking at it as a chore, it will not flow naturally. Set up your vision boarding space with whatever makes you comfortable, whether its music, candles, or your favorite snack, make it special for you. It's helpful if you connect with yourself by taking some deep breaths and having the intention to move inward. Then, sit quietly and ask yourself what it is you want in each area of your life with lots of kindness and openness. You may see images, words, feelings, or ideas. Whatever it is, know that it is right for you. Allow your ego a chance to step aside and allow your subconscious mind to do the work.
Find the Images for your Vision Board
3. Next, go through your magazines, or type the words that pop into your head into a search box. You may use stock images that are really beautiful from sites like UnSplash, Pexel, or Pixabay. If you are more comfortable with google images search, just use that. Relax and have lots of fun looking through magazines or searching your inspiration and pulling out pictures or words or headlines that catch your eye. Enjoy making a big pile or file of images and phrases and words.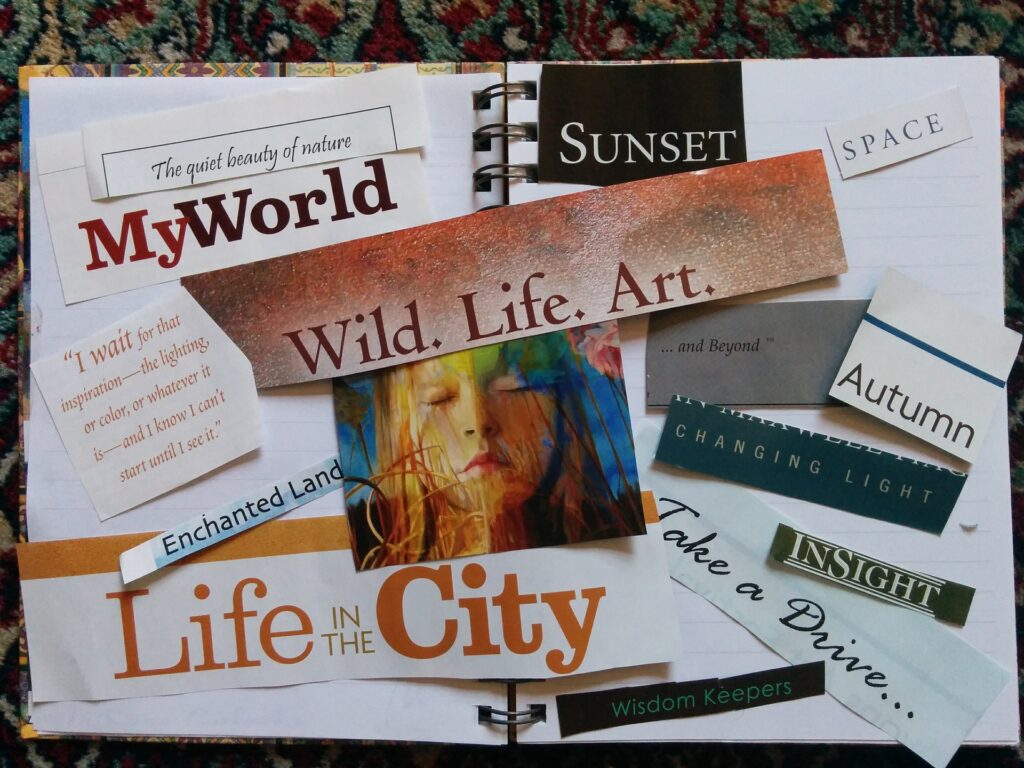 Lay Out Your Vision Board
4. Go through the downloads or magazine cutouts and begin to lay your favorites on the board. You can do this in Canva, or a Word document, or any other place you feel comfortable designing. Below I shared the template that I used in Canva, I just typed "live laugh love" into the search box to get these options with 12 image blocks. This was an easy straightforward way to design it.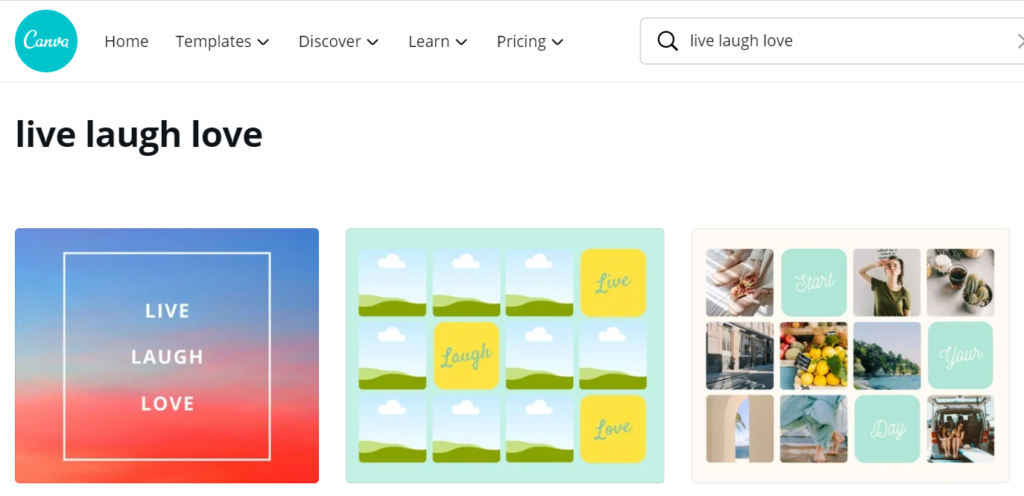 Throw out any images that no longer feel right. Let your intuition guide you to lay the pictures on the board. You might assign a theme to each corner of the board. Health, Job, Spirituality, Relationships, for instance. Or it may just be that the images want to go all over the place. You can be as creative as you like.
Glue Your Vision Board Together
5. Glue everything onto the board, or just hit save if you are doing it digitally. Add writing if you want. Let your creativity go wild.
*Optional – You may want to leave space in the very center of the vision board for a fantastic photo of yourself where you look radiant and happy to connect yourself with all the images you chose for your vision.
Display Your Vision Board
6. Hang your vision board in a place where you will see it often. Save it as your desktop or phone background. Take the time to look at it frequently. When your desires are fresh in your mind, you are more able to see the opportunities that are available in front of you.

Share a picture of your vision board on social media and tag me so I can see your creation! I can't wait to see what you come up with!